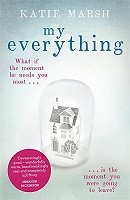 Hannah has decided that today is the day she is going to leave her husband Tom; their once happy marriage has disintegrated to such a point that she feels they can no longer work things out, and she is looking forward to following her dream of teaching in Tanzania. But today is also the day that Tom has a stroke and Hannah feels that she cannot leave. A sense of duty compels her to remain and try and help her husband through his recovery, but as they face the future together, Tom is determined to try and fix their marriage and make Hannah fall in love with him again.
This book is told in both the present day, starting with Hannah's discovery of her husband on their bedroom floor, clearly in serious pain, and in flashbacks which show how Hannah and Tom's relationship started and developed and subsequently went wrong. I really enjoyed both storylines, and really enjoyed watching how these characters found and lost each other in the confusion of starting new jobs, moving into a new house and dealing with all the other problems that life can bring.
I thought both Hannah and Tom were pretty sympathetic characters – although Tom has clearly not been treating Hannah well prior to the start of the story, we the reader only 'meet' him at the time of his stroke, and the flashback chapters do serve to illustrate his point of view, so he is not quite the awful person that he could have been if the story were only told from Hannah's point of view. The first part of the story actually made me cry as I tried to imagine the terror and uncertainty that both Tom and Hannah would feel as he had a stroke at the young age of 32, and realised that life might never be the same.
The writing flowed well, and I gobbled up huge chunks of the story at a time – I had to stop myself from peeking forward a few pages at times, which is always the sign of a good book.
My only slight criticism would be I wasn't overkeen on some of the other characters. I liked Tom's friend Nick, but his sister Julie and Hannah's friend Steph were irritating (and Steph felt at times like a bit of a cliche). However, I feel churlish even really pointing this out, because overall this was a moving and absorbing read, which I would highly recommend. This is Katie Marsh's debut novel, and I look forward to reading future books by her.