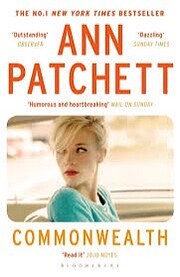 This is the story of two intertwined families, and especially the six siblings and step-siblings. It starts at the Christening of Franny Keating and ends when she is in her forties, albeit there are three timelines and the story changes between them. (I like multiple timelines, but am are that many readers don't, so bear this in mind if you are one of them.)
When Franny is 24, she meets acclaimed author Leon Posen and starts a relationship with him. When she tells him of her complicated upbringing and reveals the childhood experiences of herself and the other children in her blended family, he turns those events into what becomes a best selling novel, making their private lives public.
I love Ann Patchett's writing and I enjoyed this book a lot – not as much as State of Wonder, and certainly not as much as Bel Canto, although the latter of those is one of my very favourite books so would take some beating – but it's fair to say that although lots of things happen, in some ways, very little happens. It's the story of several lives and how our actions can affect the future. There is tragedy and sadness, but love and togetherness as well. I liked Franny very much and I loved her father. All of the characters were believable and relatable and the events felt authentic.
I would recommend this book, and if you enjoy it, pick up Bel Canto!