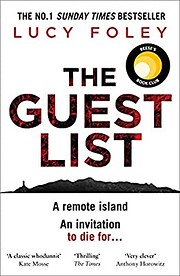 This was an audiobook, narrated by Olivia Dowd, Aiofe McMahon, Chloe Massey, Sarah Owens, Rich Keeble and Jot Davies.
Jules, editor of a popular online magazine, and Will, host and hero of a reality tv show called 'Survive The Night' are getting married after a whirlwind romance. The destination is a remote Irish island, which is subject to high winds and rough weather. The narration switches between characters, including Jules herself, her half-sister and bridesmaid Olivia, the 'plus one' Hannah, best man Jonno and the wedding planner Aiofe.
It becomes clear that all of the guests have a secret from their past and there is a lot of tension simmering beneath the glittering surface. The timeline switches between 'now' – the wedding day and evening, and the day before when guests were arriving.
I liked the premise of the book and I generally do enjoy multiple narrators as it can be interesting seeing the same events from different perspectives. But while this started off well, it slipped into ridiculousness with too many coincidences being revealed towards the end. Also, almost all of the characters were just horrible people. I did like Hannah, but pretty much everyone else was awful.
I had high hopes for this one, but came away feeling disappointed.