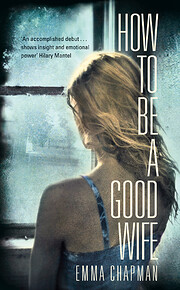 This was an audiobook narrated by Fenella Woolgar. It's less than seven hours long and I listened to it over the course of about a week while out on my daily run. I did try listening to this book a few years ago but had to give up because I just found it so bleak and frankly boring; but tastes change and I thought I would give it another go.
The narrator is a woman called Marta, who certainly comes under the category of unreliable narrator. Set in an unnamed (but feels Scandinavian) country, Marta is married to the much older Hector and they have a grown son called Kylan. She is on medication – or supposed to be, but as we learn early on, she is not taking it despite Hector physically giving her her pills each day.
When Marta starts to have hallucinations about a young girl which develop into memories? or imaginings? (we are never quite sure), she starts to doubt her marriage to Hector. She tells Kylan, but he, like the reader, is never sure what to believe. Is Marta finally remembering buried past events now that her medication is not blurring her recall, or has her stopping medication caused her to think things that aren't true?
In any event, I'm sorry to say that I did not enjoy this book and almost gave up on it a second time. It was relentlessly bleak and unfortunately I found myself bored by it. The first two thirds of the book seemed to consist of Marta wondering around in her own little world, describing the most mundane things. This may well have been deliberate, to illustrate the mundane life which Marta led, but I just couldn't get bothered about it. Hector and his mother are incredibly overbearing and have obviously dominated Marta throughout her marriage. (The title of the novel comes from a book that his mother gave to Marta when they got married and it's full of sexist and complete out of date advice about how a woman should please her husband.)
In the last third of the book, things actually started happening and it did pick up a bit. However, for me it was too little, too late. Ultimately I found Marta to be a more frustrating character than a sympathetic one, and the only characters who really seemed halfway nice people were Kylan and his girlfriend Katya (my advice to Katya – remove yourself from this family immediately!)
Expertly narrated, which is one thing going for it. Fairly short, which I was relieved about. Many people have clearly read and enjoyed this according to the many online reviews I have read. I was not one of them though, and I don't think I'll be seeking out anything else by this author.