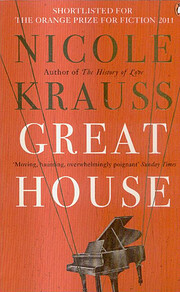 Although marketed as a novel, this is really eight short stories most of which have two narrators, and all of which are linked by a writing desk. It spans decades and countries and is essentially about the secrets we hold within us, even from those closest to us, and how we often don't know people half as much as we think we do.
Honestly, I wanted to like this so much, but I felt that I just did not end up getting it. A couple of the stores sort of held my interest, but I was bored by most of them and found them self-absorbed. It's a shame because Nicole Krauss is obviously very capable of eloquent writing, but this felt repetitive – I get the point, there's no need to keep repeating it – and most of the narrators had the same voice, with little to distinguish them as characters.
I need to get past the idea that once I start a book I have to finish it. Sometimes it's okay to leave a book unread if you are not enjoying it, and I sort of wish I had with this one. I did enjoy the feeling of relief once I got to the end of it though.