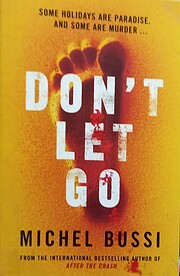 This is the first novel I have ever read by French writer Michel Bussi, and it certainly drew me in quickly. It's a thriller that definitely kept me guessing…
Martial and Liane Bellion are on holiday in the French island of Reunion when Liane goes missing after leaving the hotel pool to go up to their room. All evidence points to Martial having murdered her, and when he goes on the run, an island-wide manhunt is set up by the police in order to catch him. Beyond that it is difficult to say much without giving away spoilers, and this is a book that really deserves to be read spoiler-free.
On the whole I enjoyed it, as the writing was fast-paced and almost every chapter ended in a cliffhanger. The initial mystery was very intriguing and well put together. I also enjoyed reading about Reunion, a place which I admit I had never heard of prior to reading this, but I felt that the island almost became one of the characters in the story.
However, I did not feel that the main characters were particularly well fleshed out; I did like the police officer Christos and his girlfriend Imelda, but other than that the characterisation was thin. Not altogether a bad thing, as this is definitely a plot driven story, but I would have liked to have had someone to really root for.
Although I was absorbed in the story right until the end, I did feel that the ending itself was a bit of a let-down. This is probably because the story had started off and carried along at high-octane pace so the conclusion felt like an anti-climax; just my opinion and I suspect lots of readers will disagree with me.
One thing to note – some of the characters are told in third person and some are told from different characters' points of view. This wasn't a problem, and I generally enjoy multiple narrators but some readers may not like it.
Essentially this was a quick and enjoyable read, and I look forward to reading more by Michel Bussi.