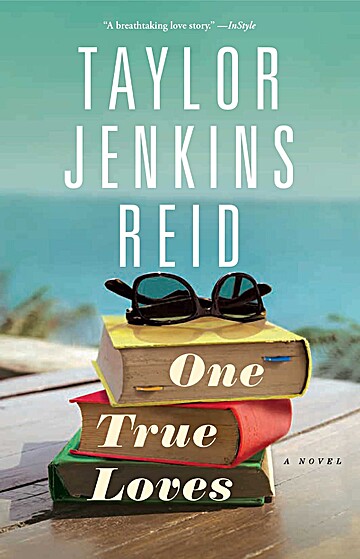 Emma Blair falls in love with Jesse Lerner as a teenager and when they get married, they truly believe it's forever. But just a year later Jesse is missing presumed dead when a helicopter he is in crashes and his body is not found.
Eventually Emma learns to live with her grief and even falls in love again with her old friend Sam. But as she and Sam are preparing to marry, the unbelievable happens…Jesse is found alive three years after he went missing – and he wants to pick up where he left off with Emma.
Torn between the two loves of her life Emma is thrown into turmoil, and deciding where her future lies could cause heartbreak for all three.
I've only discovered Taylor Jenkins Reid within the last couple of years, and have loved all of the books of hers I've read up to this point. However while I did enjoy One True Loves, I would have to say that it's my least favorite yet. For one thing, one of the two main men just seemed totally obnoxious and I couldn't warm to him at all. I won't say which, and I won't say what happens in the end, but it meant that I could not invest in Emma's dilemma because to me it seemed a no-brainer as to who if anyone she should choose.
Also, I did find the fact of Jesse's survival somewhat too incredible to believe. I know that people can and do survive such incidents as Jesse did, but the whole story of his survival on a tiny islet never seemed very possible (there are no spoilers here; we learn about Jesse's survival right from the start of the story).
I'd question some of Emma's actions, and some of both Sam's and Jesse's reactions, but of course they were caught in a highly unusual situation, and who knows how any of us might behave under such circumstances.
I still read it quickly and liked it, and I still think that this author can write brilliantly, but if this was the first book of hers I had ever read, I'm not sure I would have rushed to pick up another. But nonetheless it's an undemanding and entertaining story and I remain a fan of this author.