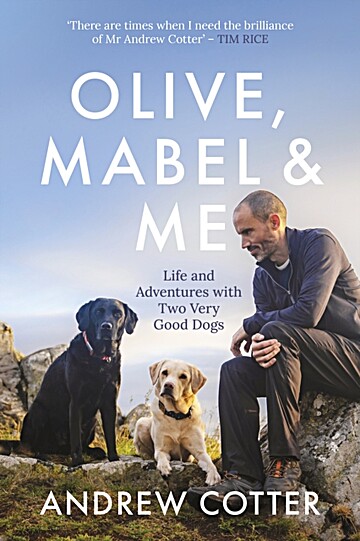 In 2020 when the world went into lockdown, freelance sports commentator Andrew Cotter found himself out of work; after all if there are no sporting events going on, there's nothing he could commentate on. So, stuck at home and feeling bored he filmed his two Labradors Olive and Mabel eating breakfast, and recorded a sports style commentary about it. When he released it on Twitter, hoping that it might inspire a few laughs, he was stunned by the response he received. So he did another – and another…and a phenomenon was born.
In this book, Cotter talks about how he and his partner Caroline brought Olive and Mabel into their family, and describes life with two beautiful dogs. Very little of the book is about the funny videos; most of it discusses life in general with the dogs, and focuses particularly on the Scottish mountain walks/hikes that they do together.
This was my first book of 2023, and it was a cracker! I read well over 200 pages in two sittings, and would have finished it in those two sittings if I didn't have to go back to work! I have two Labradors myself, so was very able to recognise a lot of the comical situations he describes, and I think any dog lover would feel the same.
What I wasn't expecting, and came as a pleasant surprise, was quite how funny this book is. I laughed out loud several times during the reading. Andrew Cotter has a very funny turn of phrase and the way that he described the dogs' expressions and thoughts was genuinely very amusing. Also, his absolute adoration of Olive and Mabel came through very clearly, and I think anyone who has ever loved a dog would be able to relate to this.
Overall, this was a brilliant way to kick off my 2023 reading and I would recommend this book to everyone, but especially dog owners and/or lovers.