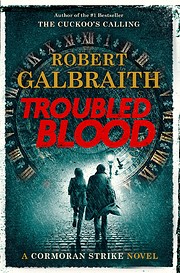 This fifth outing for private detective Cormoran Strike and his business partner Robin Ellacott sees them tackling their first cold case. Strike is visiting his uncle and sick aunt in Cornwall when he is approached by Anna Phipps, who hopes he can help her discover what happened to her mother, GP Margot Bamborough, who went missing just over 40 years earlier. Was she a victim of serial killer Dennis Creed who was in the midst of his killing spree at that time? Or was something else behind Margot's disappearance?
As Strike and Robin go back over the lives of Margot's colleagues, friends and family, they run into more and more problems, with red herrings, missing witnesses and unreliable memories. Meanwhile Strike is juggling trying to look after his aunt, dealing with unwanted contact from his half siblings and his erstwhile father, and his fragile and unbalanced ex-fiancee Charlotte still trying to remain in Strike's life. Robin has her own problems, going through an unpleasant divorce from Matthew and dealing with unwanted attention from another quarter.
The agency is expanding for better or for worse – they have taken on a new subcontractor and an office secretary (the latter of which was a very enjoyable character to read about; I hope she features in future books).
Every time I read the latest Strike book I think it is the best yet, and this one is no exception. It's huge – the paperback is nearly 1100 pages – but I enjoyed every minute of it. The twists and turns came fast and just when I thought the detectives might be getting somewhere, something would happen to make me think, "Oh, hang on…."
I do think Galbraith has a gift for characterisation, as I felt I really knew everyone in this book. The plotting must have been meticulous, and the ending was brilliant. I like the fact that the book shows the private lives of Strike and Robin, but never delves into the realms of soap opera; rather it adds to their motivations and nuances of character as we understand more about what drives them.
Ready for the next one please!