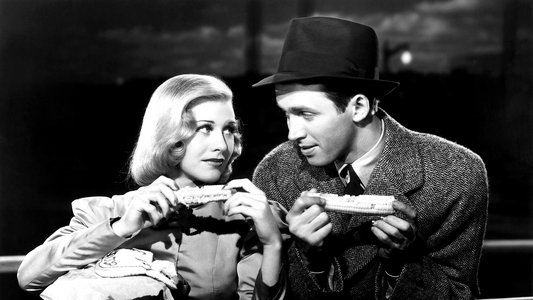 Vivacious Lady stars a young James Stewart as botany professor Peter Morgan and Ginger Rogers as the title character – a nightclub singer named Francey. When Peter and Francey meet, it's love and first sight and they impulsively get married. However, Peter is then faced with the prospect of telling his conservative parents – not to mention his fiancee Helen! – what he has done. Lots of comedy ensues as he struggles to find the right time, and the couple have to hide their romance.
This film is a sparkling delight from start to finish. James Stewart is just so bloody likeable and sincere in everything he ever did, and Ginger Rogers had perfect comic timing, which made her shine in a hilarious fight scene. Not that she has the monopoly on physical comedy in this film – Stewart's character getting drunk is terrific (he does a splendid drunken scene two years later in The Philadelphia Story) and there is a wonderful dance scene with Rogers, James Ellison as Peter's cousin Frank, and Beulah Bondi as Peter's mother Martha.
With Charles Coburn playing Peter's father, who takes an instant dislike to Francey, and great turns from Frances Mercer as Helen, this is a great cast who all seem to be enjoying themselves. And this certainly translates to the viewer, because I can't imagine anyone finishing this film without a smile on their face.
In short, this is called a classic for a very valid reason. If you like films from this genre, then don't miss this one!