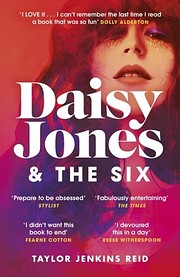 In Los Angeles in the late 1960s, brothers Billy and Graham Dunne form a rock band called The Six. At the same time, teenager Daisy Jones is discovering her identity, crashing clubs on the Sunset Strip, discovering drink and drugs, and sleeping with rock stars. She eventually becomes a singer and ends up joining The Six. The band went on to huge success and sell-out tours, until mid 1979, when they split up abruptly and without warning. Finally in this book the reasons behind their shock split are revealed.
This was the first book I read in 2022, and I think the third book I had read by this author (although the other two were audiobooks). I breezed through this one very quickly and if it wasn't for things like eating and sleeping, I probably could have read it in one sitting!
Daisy Jones & The Six are a fictional band, but there were certainly bands like them around in the late 60s and 1970s. This book is written as a sort of interview with different band members and people around them, so the events described are sometimes told very differently by some characters, because of course memory is not always reliable and people always bring their own biases to the table. It's a style of writing that not everybody will love, but I thoroughly enjoyed it. I really liked seeing the development of the band, spotting things that were happening before the characters themselves were always aware, and watching tensions arise and relationships – good and bad – forming.
Daisy was definitely what you would call a hot mess. WAY too into the alcohol and drugs, and I feared for her. The rest of the band were very relatable and believable with their own distinct personalities. My favourite character was Camila, who was not actually in the band at all but is a very important character throughout. I didn't always agree with her choices, but she is very much a friend that someone would want to have by their side.
Anyway, a fascinating story that moves apace to keep you interested together with characters that you can really invest in even if you don't always like them make this a great read. Perfect for kicking off this year of reading.