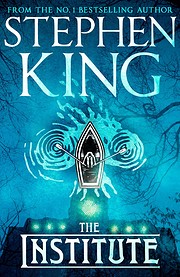 Tim Jamieson is an ex-cop on his way to a new life in New York, when he decides to literally go in a different direction and ends up in the small South Carolina town of DuPray and finds himself a job as the local Night Knocker (if you're wondering what that job is, so was I; I Googled it and all the results were Google searches by other readers of this book! It appears to be a job whereby someone just walks around the town and checks that everything is in order, businesses etc are all locked up and safe – a nightwatchman for the entire town effectively).
Meanwhile, in Minneapolis, child prodigy and telekinetic Luke Ellis is kidnapped in the middle of the night and taken to an isolated, secret building in Maine. He wakes up in a bedroom identical to his own at home – except that there is no escape from this institution. He and other remarkable children like him are prisoners here, and the evil director Mrs Sigsby and her sadistic staff are determined to wring every last bit of these children's special powers for their own purposes. The children who enter the institute never get to leave it – but Luke is determined to escape.
The stage is set for a showdown of humungous proportion…
I generally make a point of reading at least one Stephen King book a year, at least for the last few years. I tend to prefer his later works, and always find myself totally drawn in. The Institute was no different – starting with Tim Jamieson's story and then moving on to Luke and his fellow captives in the Institute. Inevitably the two stories collide later on in the book, for the thrilling ending.
However, as much as I enjoy Stephen King's work – I always find that the first 75% of his books are better than the last 25% and I do think that was the case here too. That's not to say the ending was disappointing – far from it – just that the journey is usually more exciting than the destination. I don't see how he could have ended this story differently really, but what really drew me in was the all-too-scary vision of life in the institution.
I really liked Tim's character and also the character of Sheriff John, albeit the latter was not in the story as much as I hoped. The main children in the institute all had their own distinct personalities as well, and it would be difficult not to like and root for Luke.
Overall, a thrilling book which I found hard to put down, and always looked forward to picking up again. Definitely recommended for Stephen King fans and people who like horror or dystopian/speculative fiction.