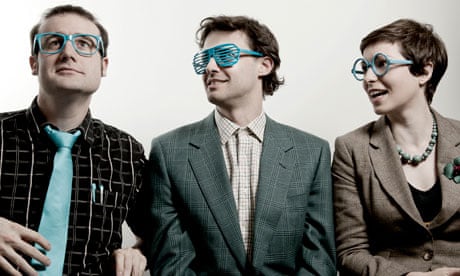 Following last years successful Full Frontal Nerdity show (review here) Steve Mould, Matt Parker and Helen Arney are back with Just For Graphs, a comedy show with science related songs, experiments with fire, and lots of graphs and maths.
These are the kind of people who you wish had been your teachers at school. Science is a lot more interesting when you are actually part of the experiment – such as the experiment showing the conductivity of humans which was demonstrated in this show – or indeed when a tennis ball set on fire is thrown across the stage (it's not as dangerous as it sounds!)
The show was more maths centred than Full Frontal Nerdity, but even though I am not a maths lover (give me English and Drama over Maths and Science any day), I found it very interesting, and there was certainly a lot to laugh at. There was a great section about Venn diagrams (yes, really!) and Euler diagrams (often mistaken for Venn), and light and bouncy atmosphere kept the whole audience engaged.
Arney, Mould and Parker all interact very well with each other – I can only imagine that they are great friends offstage, and this makes for a friendly dynamic with the audience. Parker in particular is well aware that many people see maths as boring or dry, but if anyone can change people's minds, he can.
Definitely a fun night out whether or not you have an interest in science. Go catch them on the tour if you can.