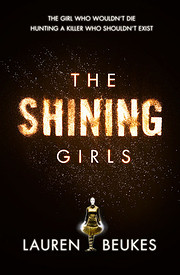 There can't be too many books about a time-travelling serial killer, who murders women in different decades of the 20th century, but here's one of them. Part sci-fi, part horror, part crime fiction, the books tells the story of Harper Curtis, a monster of a man who discovers a house which allows him to move through time. He goes to see his future murder victims (his shining girls) when they are children, and then comes back when they are adults and murders them. Kirby is one of his victims who actually survives his attack and determines to track down the man who almost killed her.
A week after finishing this book and I am still not sure what to make of it. I sort of enjoyed it, but in parts it was slow and seemed repetitive. I liked Kirby's character although I did think she was slightly cliched. Harper was irredeemable, horrible, and had not one tiny bit of anything remotely good about him. As bizarre as the idea is, it's quite appealing in some ways, and I think if the book had been about 100 pages shorter, I would have enjoyed it more. It's not really the kind of book I ordinarily got for though, so I may not be the best person to ask for an opinion.
A word of warning if you are thinking of reading this – some of the murder scenes are particularly gruesome and there is a scene of animal cruelty, which had I known about beforehand would probably have put me off reading it altogether.