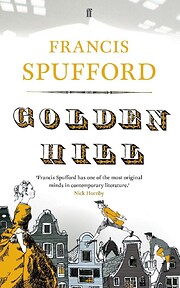 In the mid 1740s, a young Englishman named Richard Smith arrives in New York, a city in its infancy, with a money order for £1000. As none of the counting houses have that kind of cash available and as there are questions surrounding his honesty and the authenticity of the order, Mr Smith is obliged to wait in New York until the money can be raised and he can be proven to be trustworthy.
The reader is also kept in the dark about Mr Smith's intentions – we don't know if he is honest and we don't know what he plans to do with the money, and we only find out the truth about both questions at the end of the book. No spoilers here though!
His presence in the city divides the people who live there – some believe him and like him, others are convinced that he is a liar and a cheat – and he finds himself in some dangerous and unsavoury situations – some of his own making and others in which he is an innocent party. There are a number of twists and turns along the way.
A curious one this, for me. I really struggled with some parts of it and found it difficult to maintain interest. But other parts were fascinating and exciting and I raced through them. There is a LOT of description about New York in the 1740s, which does really help to set the scene. Spufford also employs the use of language of the era, which could sometimes mean that it didn't flow as easily as it might have. So all in all a bit of a mixed bag. I did like the main character of Mr Smith, but most of the other characters were not particularly well developed. There is a strong female character named Tabitha, who I wish could have been pleasant as well as strong and smart. She had a much more pliant sister, and I was reminded of Katherine and Bianca from Shakespeare's The Taming of the Shrew (although Katherine is more of a sympathetic character than Tabitha, who I just found unpleasant).
With all that said, there was a lot here to enjoy and I would consider reading more from this author.