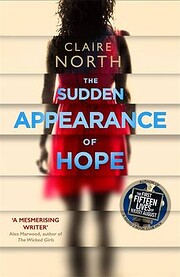 Hope Arden is a woman who everyone forgets – quite literally. Someone can meet her, have a conversation with her, sleep with her even, and when she goes away they have no recollection of her, so every time she meets someone it is the first time for them. This makes it hard for her to make friends, forge relationships or hold down a job, but it's very useful tool for an international jewel thief, which is what Hope becomes. She then becomes embroiled in a plot to steal an app called Perfection. The app awards points to people for improving themselves or their lives, such as having the right cosmetic treatments, going to the right gym enough, or buying the right food; it tracks your every movement – and quite frankly sounds awful, and perilously close to where we are in real life.
There are some interesting ideas about what it means to be perfect, and what it means to be memorable, and there is no doubt that some of the writing is very beautiful and clever. However, this book did not really work for me – I did not like the stream of consciousness style of narrative (although I have previously written other books written in a similar way and enjoyed them) and I did not like the constant flying off at tangents.
I did think that for someone who is forgettable, Hope was a very fully fleshed out character who the reader got to know and essentially root for, even if she was not always likeable. But none of the other main players were ever really more than cardboard cutouts. I stayed up late to finish this book, which usually means one of two things; either I am loving a book and can't put it down, or I want to get to the end of it, precisely so that I CAN put it down. This was a case of the latter. It's not badly written, far from it, and I liked the two main threads – Hope's forgettability and the Perfection app. But it never really worked and I didn't feel any sort of connect. I do have another book by Claire North, and I will give it a go at some point.