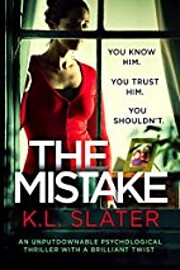 This was an audiobook narrated by Lucy Price-Lewis, who did an excellent job.
The story revolves around Rose Tinsley, whose 8 year old brother Billy was murder 16 years earlier and as a result, Rose has severe psychological problems. Rose, and her whole village were convinced of who murdered Billy and that the right person is in prison for the offence, but her belief is shaken to the core when she finds something shocking in her elderly next door neighbour's house. Could it be that the person serving time for the murder is in fact innocent? To find out the truth, Rose must face her fears and examine the past.
The book has two timelines – 16 years earlier which is narrated in the third person, and the present day, which is narrated by Rose. In the earlier timeline, an 18 year old Rose meets Gareth, who is ten years older than her. At first he seems like the perfect charming boyfriend but as times goes on, it becomes clear that he is not all he appears.
This is the third book I have read by K L Slater, and unfortunately I have yet to find one that I really enjoy. As mentioned earlier, I did think the narration was done well by Lucy Price-Lewis, but the storyline itself seemed very repetitive. The main issue I have with this author is that in all her books (at least the ones I've read) the women are very weak, and quite frankly spineless and not able to see what is staring them in the face. Meanwhile the males are generally so awful that they are almost like a caricature and just serves to heighten the issue with the women not able to see through them.
The one positive thing I will say was that I liked the resolution to the mystery and I did enjoy Rose's last scene in the book. Other than that, I found it fairly annoying with dialogue that seemed to go round in circles. There are LOADS of positive reviews for this book online, so it may be that this author is just not for me, but I think I'll be giving her other books a miss.